Kingston Technology, a world leader in memory products and technology solutions, today announced the release of its 32GB and 16GB Server Premier DDR5 5600MT/s and 5200MT/s ECC Unbuffered DIMMs and ECC SODIMMs.
For over 35 years Kingston has been the memory brand trusted by leading server manufacturers and the world's largest data centers. Server Premier is Kingston's industry standard server class memory solution sold by specification for use in white-box systems, and is Intel platform validated and qualified by leading motherboard/system manufacturers. Featuring a locked BOM (Bill of Materials) to provide a consistent brand and revision of primary components (including DRAM, PMIC, SPD hub, thermal sensors, and PCB), all Kingston server memory solutions are 100% tested and undergo a rigorous dynamic burn-in process designed to catch early-life failures at the factory.
Server Premier features include:
Locked Bill of Materials (BOM)

Part Change Notifications (PCN) – 90 days

8Q roadmap visibility

Platform validation

Leading server motherboard manufacturer qualification

Limited lifetime warranty

Industry-leading service and support
"We're proud to announce the availability of DDR5 5600MT/s and 5200MT/s speeds for ECC unbuffered DIMMs and SODIMMs," said Kingston. "The latest Intel and AMD DDR5 systems supporting ECC will be able to take advantage of the enhanced data integrity available with these new modules."
In addition to the on-die ECC (ODECC) featured in every DDR5 DRAM chip, these new modules feature extra DRAM to support the ECC (Error Correction Code) algorithm on enabled Intel and AMD processors, providing enhanced data integrity and stability for mainstream and mobile workstations.
The following modules are available now: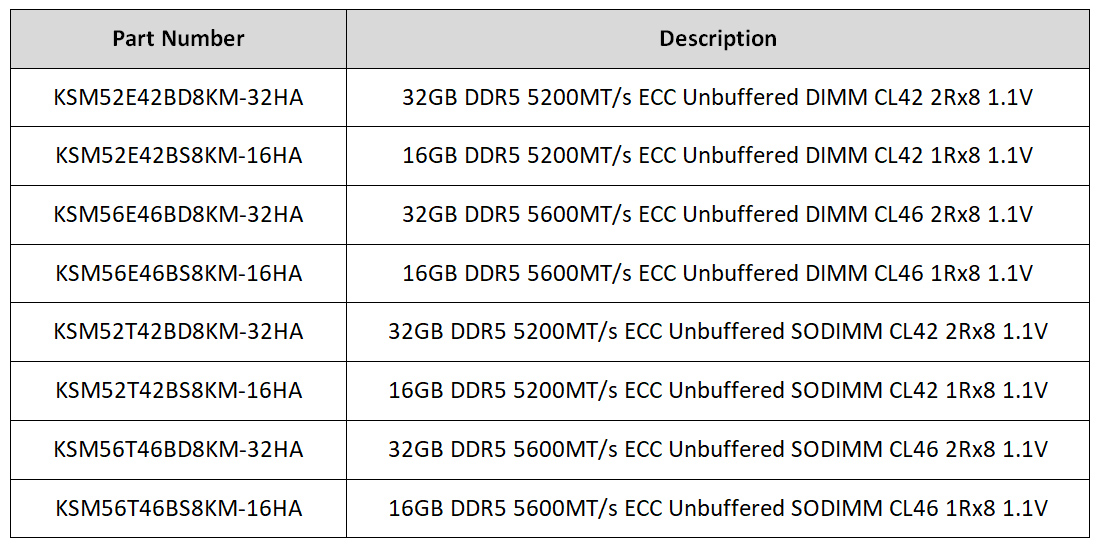 For more information visit kingston.com.
Kingston can be found on:
Facebook: https://www.facebook.com/KingstonIndia/
Instagram: https://www.instagram.com/kingston_india/
YouTube: http://www.youtube.com/user/KingstonAPAC