New Delhi: Samay Yaan, an initiative of Sashakt Samaj, a renowned not-for-profit society, successfully hosted the captivating Katha Utsav. This enthralling event, held at the Samay Yaan Reference Library and Cultural Centre in R K Puram, illuminated the splendour of Indian cultural and literary heritage through mesmerising recitals. Supported by the esteemed Azadi ka Amrit Mahotsav, Ministry of Culture, the event enthralled the audience with its remarkable tales and extraordinary performances.
A celebration of storytelling prowess, it witnessed an exceptional line up of participants retelling the enchanting narratives of renowned literary maestros like Premchand, Dhoomketu, Rabindranath Tagore, Amrita Pritam, Sudarshan, Phanishwar Nath Renu, Gajanan Madhav Muktibodh, Bhisham Sahni, Vijaydan Detha, Jhumpa Lahiri, and more.
The finalist, carefully shortlisted based on their profiles and video submissions as well as a rigorous pre-event selection process, skilfully presented their renditions of stories by literary giants, delighting the audience and jury with their unique perspectives. These talented narrators, chose stories in Hindi and English.
With each narrative limited to a gripping ten-minute duration, the esteemed jury members – Malvika Joshi, a multifaceted and acclaimed artist, poet, storyteller, and choreographer and Dr Prabhansu Ojha, Writer, Storyteller, Poet, Debater and currently assistant professor at Hansraj College and Dr Anil Pandey, Director, India For Children, a media strategist, political analyst, writer- had the arduous task of selecting the most peerless performers.
The winners were determined by the selection of the story, soul-stirring presentation skills, stylisation, and the ability to forge a powerful connection with the audience, leaving an indelible impact.
The jury selected Ishika Panchal, Vidya Jyotsna and Bhanu Pratap as 1st, 2nd and 3rd winners respectively, who got the opportunity to meet the distinguished jury members and were awarded the cash prizes: First Prize: ₹5100/-, Second Prize: ₹3100/- and Third Prize: ₹2100/-.
"Samay Yaan is an idea that lets you time travel through India, culturally! Katha Utsav is an attempt to preserve and revive "India's Heritage Stories". Supported by Azadi ka Amrit Mahotsav, Katha Utsav is a bridge between stories of past and kathakars of today. Under the program potential storytellers will be groomed, given a platform and support to present these heritage stories to the 21st century audience", said Bharti Dhingra, Organizer, Katha Utsav.
"In the times of short attention spans that we live in, Katha utsav is committed to bringing stories and storytelling in vogue again, We have started with Indian Heritage stories as theme for our first event", said Sumit Maluja, Organizer, Katha Utsav.
At Katha Utsav we plan to conduct many events, activities and workshops going forward. We welcome all writers, story tellers, enthusiasts, artists to come and join this platform and enrich it with their experience.
"Our past is best explored and understood in the stories of India's legendary writers. Their stories hold our collective experience as a nation. By reviving and reliving their work, we connect with our roots better", said Malvika Joshi.
Katha Utsav is an excellent initiative and has the potential to liven up the literature scene. I am happy to be part of it.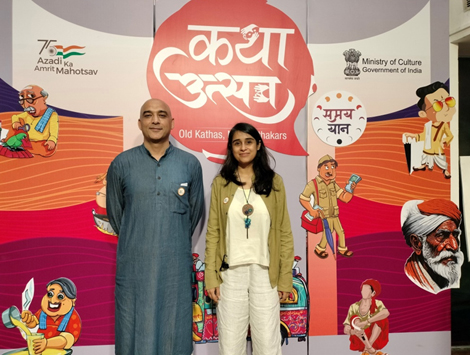 Lauding the initiative by Katha Utsav, Anil Pandey, Director, India For Children said, "India is a land that brims with stories and tales that are classic and timeless. However, how many young people today are aware about Prem Chand or Fanishwar Das Renu, whose stories hold the same essence in every century and age? The youth today is served readymade digital text which is unfortunately often very superficial and crass. To ensure that they are not further alienated from our rich heritage, it is important that we reintroduce them to these dusted pages of heritage. The Katha Utsav is a great initiative that will ensure that our literature doesn't get forgotten in this fast-paced hollow world."
Samay Yaan's Katha Utsav owes its success not only to the remarkable participants but also to the generous support of the Azadi ka Amrit Mahotsav, Ministry of Culture. Their commitment to preserving and promoting India's rich cultural heritage made this event possible, further strengthening the fabric of our diverse society.
About Samay Yaan
Samay Yaan is an initiative of Sashakt Samaj, a non-profit society dedicated to making a positive impact in the fields of health, education, and culture. It is a vibrant reference library and cultural centre with over 3000 curated rare books from various regions of India. Also, an experiential centre, it hosts regular events that celebrate art and culture and engaging live performances. Through its events and initiatives, the organisation strives to kindle the flame of knowledge, foster a love for literature and the arts, and connect individuals with their roots.
For more information, please visit https://samayyaan.com/.